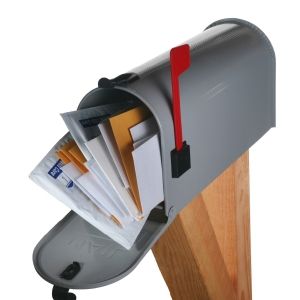 What do you do when you bring your mail into the house? If you are like many of us, you put it in the pile – the pile that you are going to deal with later. And the pile gets bigger and bigger, until you feel overwhelmed by the prospect of going through it. So, you leave it for later- whenever that is.
After a while you don't even know what is in the pile – out of sight out of mind.
What is Wrong With A Pile O' Mail?
You can't find financial statements when you need them.
Bills don't get paid on time, and then you have to pay extra fees.
You don't respond to invitations on time.
You are surprised when events "sneak up" on you. Have you ever missed an event that you really wanted to go to, but couldn't get it together in time?
I'm sure you can add more to this list, but you get the point. Putting off dealing with your mail just makes things worse. So, don't put it off – make you life easier and save time.
Sorting Your Mail – So You Can Access The Information When You Need It
Some people recommend that you sort you mail into piles to do it later. Right, later… I, however, subscribe to two complimentary methods – OHIO (Only Handle It Once) and SUADI, (Stand Up and Do It). If you have not heard of the later, I am not surprised; I made it up. If you have a more clever acronym, please let me know.
1. Decide how often you are going to sort the mail. If you do it everyday, it will probably take you 10 minutes or less.
2. Have the recycling bin at hand, and put junk mail or other mail that you know you do not need into it.
3. Have a place for magazine and papers, and put them there right away
4. If you enjoy reading catalogues, put them in a particular location, as well. Otherwise, recycle them – you can go online when you need something.
5.When your receive a notification for an event or invitation, put all of the information in your calendar and then recycle the notice. If there is a URL , include that in the notes section of your calendar to reference later.
6. If it is statement (bank, insurance etc) that you need to keep, and no action is needed on your part, file it away.
If you do not have a filing system, and are not sure how to create one, check out FreedomFiler. If you are interested in a 15% code, please email me with the request. (They specifically asked that I not post it on the internet. Sorry, for the extra strep…)
Also, I'll cover some of the basics of filing in next week's newsletter.
7. Have a basket or other location where you can put mail for other members of your household.
8. Unless you know that you are going to use a coupon soon, recycle it. How many piles of expired coupons do you need? Often you end up spending money that you would not have because it such a good deal . Sound familiar? While I am not immune from the allure of coupons, I try to resist. And I suggest you do, too.
9. Place all your bills in one location, so that you can easily access them when you are ready to pay bills.
ADDEd Perspective Bottom Line
There are many ways to sort mail. Choose a systems that works for you and develop the habit of doing it on a regular basis. Makes your life easier. You can stop rummaging around your house, asking, "where did I put…?"