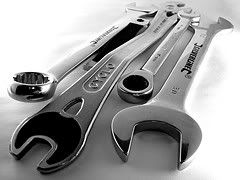 The last time you read something about being productive and working with your ADHD, what did you do?
Did you give it a good read, perhaps over time and as long as your attention would allow, and then experiment by trying one or more of the suggestions?
or
Did you give it a cursory read, and conclude, "Hmm… this is really good stuff. I should try one of these tools or strategies." But you didn't act on that thought.
In taking the assessment below you will need to really reflect on your current practices, rather than just gloss over the material. You will see where you can take specific actions in adopting news tools or using the ones you have more effectively.
Follow these steps after taking this first assessment, The Right Tools.
Acknowledge what you are doing right, even if you are not doing it with the frequency, perhaps, that you would like. Every step forward counts!
Notice those areas that you did not rate as high as you would like.
Choose an area where you would like to make improvements.
Decide on what small step you can take. Experiment with using a tool that you have not used, yet.  Alternatively, trying using one of your tool more effectively.
Identify what would help you take those small steps. Do you need a new app? Do you need outside help?
Ready?
Using the Right Tools
Rate each item on a 1-to-5 response scale (Some questions will require just a "yes" or "no" answer.) where:
1  =  Never or No
2  =  Seldom
3  =  About Half the Time
4  =  Usually
5  =  Always or Yes
Click next below to start taking the quiz.
[wpsqt name="The Right Tools" type="survey"]
Now What?
If you are like most of us, you have room for improvement.
You may be thinking, "Yes, I want to improve my systems, but I just don't have the time. I already have too much to do. "
Though you probably already know this, remind yourself that when you have these systems set up, you will save time.
Remind yourself that when you get "stuff" out of your head and clear the clutter, you will:
remember your intentions, priorities and tasks.
make better decisions about what actions to take because you can see everything on your plate.
be more productive in areas that are important to you.
feel more centered.
But don't try to do it all at once. Because, as you likely know from past experiences, that is not sustainable and will lead to overwhelm.
Instead, try one small step at a time and don't strive to do to it perfectly. Try to do it better.
Remember that, for many Adults with ADHD, this is not an intuitive process; it does not come easy. Though, if this is true for you, you can learn…one step at a time.
So, if you are not sure how to set up or use the systems, reach out and ask for help.
Photo Rights:Some rights reserved by zzpza