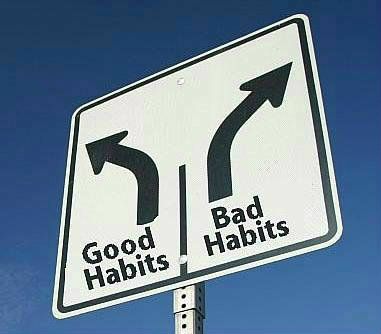 A reader, who was recently diagnosed with ADHD, shared with me that he is an avid fan of David Allen's Getting Things Done.
As you may know so am I.
But I also know that, for many adults with ADHD, building the habits necessary to implement GTD or any other workflow system can be a challenge.
With support, time and effort  you can create a workflow system that will work with your ADHD, if you decide that is the route you want to take.
The key lies in creating three critical habits.
Habits
You already have habits that you have built up over time.
Some you do not even think about, like brushing your teeth. You have been doing this for so long time that it is a habit that has stuck.
There are other habits, some related to your ADHD, you have also built up over time that do not serve you, like doing tasks at the eleventh hour, rather than being more proactive, for example.
As you learn new more helpful habits and unlearn old habits that do not serve you, you will need to be patient and compassionate with yourself.
Building new habits takes time. The reader I mentioned above told me that it took him two years to really fully implement GTD in a way that works for him. Now that is persistence!
You can also make habits stick in a way that works with your ADHD.
Handling Information and Reminders
One of the hallmarks of GTD is deciding how to handle information and doing so consistently.
This eliminates the need to ask yourself each time, "What do I do with this?" When you have to ponder each piece of information it slows you down. And you may even decide to overlook it when you are uncertain what to do with it. So…
the email with critical information about your project sits in your inbox.
the notes from the meeting stays on one of your many pads of paper.
the flyer from your kid's school is somewhere.
And it swims about in your head, leaving you feel inundated by all the information.
When you process your information, using one of the many different types of containers in a consistent manner, you will work more efficiently and you will feel less overwhelmed. Some common containers are:
a calendar where you put all your date and time sensitive information
a task manager that helps you manage your to do list
your email
physical in-box
file cabinet
Once you make a decision about what to do with certain types of information, each time you get a similar piece of information you will know what to do with it.
Keeping Current
And then you have to keep these systems up to date.
As David Allen points out, if you do not keep current with your systems, you will not trust them. And if you do not trust them, you will not be motivated to keep your external systems going because you just "know" that there is something missing.
So, you will go back to relying on your brain. And, as an adult with ADHD, you know that your brain is not a reliable place to store information! You can't be sure that you will be able to access it when you need it.
"I should have mentioned that point in the meeting."
"Darn, I meant to mail that package last Monday."
"Sorry, I forgot that meeting was at 1:00."
The habit of updating all of your systems consistently during your weekly review will help you trust that you are current and keep you motivated to keep the systems going, rather than trying to rely on your head.
As you build this second habit of keeping current, you will become more confident that you are on top of your tasks and reduce your frustration immeasurably.
As long as you can see the reminders when you need them.
Seeing Reminders When You Need Them
Will you see it?
When you are working on a project you want to see the whole picture, so you keep all of the information about each project together.
And when you are in a meeting and promise to make a phone call, you write it on the pad of paper where you are taking notes.
When you want to remember an errand, like picking up your clothes at the cleaner, you write it on a sticky and put it on your computer.
But what you really want is to able to see each of the above examples of tasks in the context when you will be able to take action. So, the third habit that is critical to be able to working efficiently is having your reminders in a place where you can see them when that action is likely to occur. You want to be able to see:
the next actions for all your projects when you are ready to work.
phone calls when you can make phone calls.
all of your errands when you are out and about in your car.
One way to do this is to use a task manager so you can filter and sort your tasks to be able to see them how you need.
ADDed Perspectives Bottom Line
Building the three habits of handling information consistently, keeping current and seeing your tasks by context  will help you work more efficiently and effectively.
It will take time.
And, if you need support in building these habits, feel free to contact me for a complimentary Strategy Session. We can talk about how I can help you.