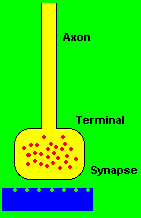 Usually, I write about how ADHD symptoms are expressed and how to manage them.
In fact, I bet most of the time this is the information you are looking for as you attempt to answer the question, "How do I deal with my ADHD?!"
And I know from talking to a lot of people that having an understanding of the genetics and neurobiology of ADHD is probably not at the top of your list when looking for ways to address the challenges of your ADHD.
But I think it should at least be on the list.
I hope this brief intro whets your curiosity and prompts you to find out more about the relationship between the brain and ADHD.
Causes of ADHD
While we don't know all of the causes of ADHD, research has shown that:
Genetics likely plays the largest role. "… 75% of the etiologic contribution to this disorder is genetics. Parental ADHD, the genetic factor, increase the risk of developing ADHD 8-fold."*
Prenatal exposure to cigarettes and alcohol, as well as low birth weight can also be a cause of ADHD. "…exposure to cigarettes or alcohol in utero is a specific teratogen for ADHD that, like low weight at birth, increases the risk of developing ADHD 2- to 3-fold."*
But there is no evidence to suggest that too much sugar, television, poor parenting or poverty causes ADHD, contrary to what some have suggested.
Given the strong genetic relationship, it is no surprise that there is an association between ADHD and certain genes.
Chemical Imbalance
While the research is not conclusive, it has been well documented that there are differences between the brains of ADHD and non-ADHD people.
One difference is related to the circuitry in the prefrontal cortex of the brain, an area associated mainly with executive functions, such as:
problem solving
attention
planning
response inhibition
We know that the way the brain carries out its many functions is by transmitting signals in between the neurons or brain cells of the brain by means of neurotransmitters. When this circuit is somehow interrupted, the brain is unable to function effectively.
Research has shown that the gene that regulates the neurotransmitter, dopamine, functions abnormally in those with ADHD.
Specifically, the dopamine receptor gene DRD4*7 has been found to be defective in 30% of the general population and about 50% to 60% of the population with ADHD.*
It also seems likely that dopamine production, which occurs in the prefrontal cortex is not being produced at normal levels in the brain.
The impact is that the messages between the neurons that would allow for the various executive functions to occur effectively are interrupted. This defect is one of the contributing factors for ADHD symptoms, such as poor working memory, impulsivity, variable attention, etc.
Motivation
Ok, I know, you are asking, "what does this mean for me?"
If you have ADHD, especially if you were diagnosed later in life, you may have been told over your lifetime that you need to try harder. So, you may have come to believe that you just need to be more motivated.
Hopefully, once you have a better understanding of the neurobiology of ADHD, you will recognize that one of your challenges is in part attributed to the differences in how your brain functions. So, "just trying harder" is not the answer.
But with this understanding you can seek out different treatment options to address your particular neurobiology.
Treatment
One option is stimulant medication, which is an effective part of a holistic treatment plan for many with ADHD. It seems that stimulant medication stimulates and increases the availability of certain neurotransmitters, particularly dopamine, as well as norepinephrine. The impact is that the circuits in the brain, which impact executive functions, work more effectively.
In addition, Dr. John Ratey, author of Spark: The Revolutionary New Science of Exercise and the Brain, points out two of the benefits of exercise for those with ADHD:
Exercise elevates dopamine and norepinephrine for a period of time, so it acts a bit like a stimulant.
It also wakes up the executive function of the frontal cortex, which helps to curb impulsivity, allowing for more time to make better choices.
Nutrition also plays a role in how effectively your brain works. For example, foods rich in protein will increase the production of dopamine. This is supported by studies, such as those by neuroscientist, Richard Wurtman, Ph.D. of MIT, which have shown that ingesting protein "triggers the synthesis of alertness-inducing neurotransmitters," dopamine and norepinephrine.
There are also studies to suggest that supplements, like Omega-3, may aid in the transmission of dopamine and serotonin, helping the brain cells to communicate with each other.
If you are interested in exploring other treatment options that can also positively impact the effective functioning of your brain, check out Complementary and Alternative Treatments For ADHD.
ADDed Perspectives Bottom Line
Understanding how your brain works is an important part of making informed decisions about the various treatment options available.
Knowing how you brain works can also help you understand the basis for some your challenges. And, hopefully, help you see that lack of motivation is not the main culprit!
Need help understanding and addressing the challenges that are getting in the way of reaching your goals? Contact me to set up a complimentary Strategy Session.
*(Thomas Spencer, et al, Overview and Neurobiology of Attention-Deficit/Hyperactivity Disorder, Journal of Clinical Psychiatry)