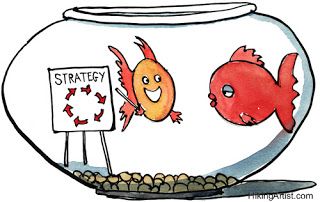 Before you read this article, you may want to read values and procrastination, and then reasons for procrastinating. After reading these articles, and doing the accompanying exercise, you will be able to identify:
the tasks that are important to you.
the reasons why you are procrastinating.
Now for the sixty-four thousand dollar question: How do I Stop Procrastinating?

As I always tell my clients, you may need to experiment a little before you find the right strategy for you. So, please, experiment. See what works, and what does not work.
Strategies
1. Sometimes when you are overwhelmed you feel like you should go faster and do more. You may be a whirlwind of activity and still be procrastinating. But what you really need to do is
STOP and BREATHE (literally)
THINK: What are the most important tasks for me to do right now that are in sync with my values and will help me reach my goals?
In order to accomplish my goals, what is the very next step?
Create a PLAN that is as flexible or structured as you need. There is not a right way to do this, as we all have different styles.
2. To prevent feeling overwhelmed, break down a project into manageable parts. Considering completion of each part as an accomplishment might help your motivation, as well. After breaking the project into smaller discrete tasks, create a timeline, including the deadlines for the whole project and for each stage of the larger task. Without a deadline, you can always do it "tomorrow."
3. When even the smaller parts feel daunting, try setting a timer for 15-30 minutes. Do what you can in that amount of time. You might find that once you get started, you will want to work longer.
4. "Just Do It" may be a useful strategy when you are struggling with perfectionist tendencies or have a hard time initiating. Even a rocky start is a beginning.
5. Use self talk to remind yourself of the value of the outcome of a task, when you find yourself being distracted. "I want to have a harmonious household. A clean kitchen is important to my partner. My partner is important to me. This is why I am cleaning the kitchen."
6. When the amount of time needed seems daunting, work on a task for a set period of time. For example, rake leaves for ½ hour a day until it is done, rather than trying to find three hours to do the whole lawn. Once you start, you may decide to work longer than you originally planned.
7. If you feel that you need the rush of doing things at the last minute, set your own personal deadline before the actual deadline. Then, if there is a snafu, you will still have time to meet the actual deadline.
8. Ask for assistance! A friend or family member can help you with the task or just sit with you as you do it.
9. You may find that you need the support of a coach to provide more accountability.
10. Please don't beat yourself up, as that will not help! Keep on experimenting and expect setbacks. You can't possibly know if a strategy will work until you try it. Remember, when you feel like you can't do it alone, reach out for help.
11. If the procrastination is so severe that it does not improve with the above suggestions, you may need the help of a therapist to find out what is getting in your way.
EXPERIMENT
Choose a specific task that you are putting off. Using that example, complete the following sentences:
1. I am going to try (strategy) as an experiment for (task).
2. This worked when I used this strategy:
3. This did not work when I used this strategy:
4. Next time I am going to use this strategy, but tweak it by:
5. I will not use this strategy, but I am going to try (strategy).
ADDed Perspectives Bottomline
While there are no surefire ways to deal with procrastination, there are plenty of strategies you can try. What is one you will try today?