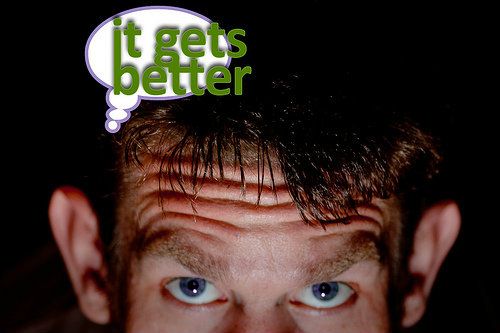 Recently, I was talking to someone about marketing my business. Below is an adapted version of our conversations and email communications.
Me: I think that for business owners with ADD, they would be drawn to a biz coach who specializes in ADD and can help them focus on making more money. For many business owners with ADD, it is all of the executive functioning challenges (planning, prioritizing, making decision, organizing…) that are getting in their way of making money. Without the understanding of ADD, people may not get the support they need to implement strategies and build skills that will last. What do you think?
J: The ADD is the process, you can use it; however it may be limiting and even people with ADD may not want to be labeled or identified that way.
M: Sometimes small business owners/entrepreneurs with ADD need help from someone who has expertise in ADD and small business matters.
J: A biz owner has been diagnosed. Would they seek a biz coach who specializes in ADD or someone who can help them focus on making more money?
There was more to this conversation, but the bottom line was that this person was suggesting that I not label myself as an ADD Coach. His reasoning was that people who want to make money would not think of an ADD Coach as someone who could help them do this.
I gave this a lot of thought. After all, I want to have a successful, profitable business. Was this person right? Should I steer away from identifying myself as an ADD Coach, so that I could appeal to small business owners who might not want to be labeled as having ADD?
But then it occurred to me that this conversation was bigger that just about me and my business! This conversation was about accepting the label of ADD.
The inference was that I should brand myself differently because those people who would not want to be identified as ADD would not desire me as a coach who could help them.
My Bottom Line
If I tried to appeal to the people who were not ready to accept the diagnosis of ADD by marketing myself as a Business Coach, rather than an ADD Coach, I would be doing the people that I want to serve a disservice.
The journey toward accepting the diagnosis of ADD can be at times exciting and disheartening. But, I believe that with acceptance comes a greater possibility of success, both personal and professional.
In my experience in my practice, when people are at the point of accepting their ADD, the success of our collaborative efforts in helping them reach their goals increases exponentially!
The Journey:
However, when people come to me, they are all at different points along their journey of accepting their ADD. Some people are struggling to accept this part of them. And that is ok. We all start some place, and have the opportunity to move from there.
In fact, I make it clear that I accept them where they are, and want to help them accept this part of themselves, so that they can be move forward more creatively.
Murphy and LeVert (1995) wrote about the six stages of coping that a person may experience following the diagnosis of ADHD.
Stage 1: Relief and Optimism
I'm not lazy or stupid.
Stage 2: Denial
I'm fine. I don't have ADD.
Stage 3: Anger and Resentment
Why do I have ADD? Why can't I be like everyone else? If I would have been diagnosed earlier, life would have been so much easier.
Stage 4: Grief
I can't do anything right. I'll never get what I want. How will I ever get through this?
Stage 5. Acceptance
I'm ok. I can figure out how to work with this. I can get the support I need.
Acceptance
When I come across people who do accept this part of themselves, they have an easier time being creative in problem solving their approach to building a life around it.
The perspective of "it is what it is" can be immensely empowering for people who are trying to work with their ADD, rather than struggle against it. It clears the space for them to be more resourceful in addressing the challenges that their ADD presents, as well as identifying and using their strengths.
I have never been able to get anywhere on time. My friends and family are always mad at me. I hate it!
becomes
I've never been able to get to places on time. Hmm… I wonder what I can do to get to places on time more often?
ADDed Perspectives Bottom Line:
I am an ADD Coach. I help adults with ADD who like to color outside of the box to minimize their challenges and productively harness their creativity so they can be successful in their endeavors. That can include making money in your business. 🙂
I hope that you find the resources and support you need to help you move forward.
Next Step:
Read my book, SMART Goals with the ADD Brain in Mind.
Your e-book is amazing! It is the reason I have contacted you. Thank you.