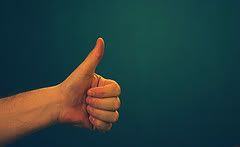 Some rights reserved by .reid.
As I've written about in the past, both eating and exercising can be part of a holistic treatment plan for ADHD .
Last week in my article, The Two Key Steps To Creating The Change You Want I shared with you a bit about my challenges with eating well.
This is not the case with exercise, though. Over the last two years I have been able to consistently exercise. Though I have fallen off the wagon, of course, I have been able to resume within a short amount of time.
I know that both are "good for me." In both cases, I know the vital behaviors that that will give me the greatest leverage and allow me to persist. See last week's article for more on this.
If you are an adult with ADHD, you likely have a number of perplexing examples like this. Can you think of them?
I bet you are curious as to why even when you have the information you need, you can succeed in one area but not in another.
Why is that?
Is It Motivation?
One possibility is that we are simply not motivated to do what we think we should do.  For adults with ADHD, if we can't tap into our motivation for taking action, it will feel like swimming through molasses.
In the case of eating and exercising, motivation is definitely the difference for me.
I have determined that both are worth doing.
But, whereas with exercise I know can do it, this is the not the case with eating well.
In the case of exercise, it is easy for me to persist. Yes, it is more like cutting through water. I have had enough experience to know I can do it, which allows me to stay motivated.
Is It Worth Doing?
I  answered this question with regards to exercise in the following way:
with the release of endorphins it gives me an immediate sense of well being and improves my mood
helps me sleep better
clears my mind of the multitude of thoughts that may be racing about, which helps me to be more centered and productive
I worry less
keeps my weight in check and makes me feel stronger
helps as part of treatment plan for ADHD and depression
helps me to be more present in two of primary roles as a coach and parent
likely part of the reason that I rarely get sick
no more back pain, which I used to have on a somewhat regular basis
a nice break from my other responsibilities
Wow! After doing this list I am even a bit surprised. It is helpful to see it on paper.
Can I Do It?
Even before doing the above list, I knew that exercise was worth doing. But knowing that I can do it is really what keeps me going.
How did I determine that I could do it?
experience through practice
through experience I came to believe I could do it
hearing and seeing other people struggle and succeed
talking to other people about their experience
seeing setbacks as information for how to make changes, rather than as a signal that I failed
I think the last point is the most important.
ADDed Perspectives Bottom Line
Step 1
Answer these question for a goal you are working toward:
Is it worth doing?
Can I do it?
Can you answer, "yes." If you can, motivation is likely not getting in your way.
If your answer is "no" or "I'm not sure," it will be harder to succeed, especially if you have ADHD.
Step 2
If you need help in deciding if it is worth it, ask someone to help you answer this question.
If you need help deciding if you can do it, ask for support  in:
designing and creating the experiences you need to have the experience of success
creating strategies to help you over the inevitable hurdles.
looking at the hurdles as temporary setbacks, not permanent failure.
Step 3
If you need help beyond what your friends and family can offer, explore the different types of support I offer. Then let's let's connect and talk.